Luxury Vinyl Flooring in Stroudsburg, PA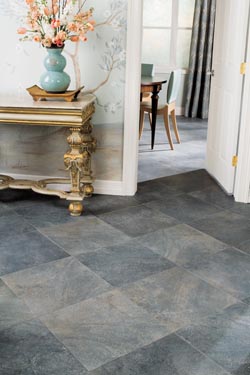 Finalize your design plan and find the perfect vinyl flooring for every room in your home when you visit our expansive showroom. At Schnaitman's Flooring America, we offer much more than just beautiful floor coverings. Our design specialists are here to help you identify the right flooring for every room. When you need a fresh look for places with higher levels of moisture, go with luxury vinyl flooring in Stroudsburg, PA.
Our knowledgeable team is ready to help you find flooring that fits the room and your way of life. When you need the charm of hardwood flooring in a place that is prone to spills and flooding, we recommend decorating with a luxury vinyl product. A vinyl plank looks every bit as natural as solid wood, and it won't expand and contract with changes in temperature and moisture.
Utilizing an advanced manufacturing process, vinyl is combined with a photo layer to produce a floor covering with texture and character. Each plank can be installed above subfloor irregularities and even existing flooring in certain circumstances. The versatility and the ease of maintenance that comes with this type of flooring make it a smart way to decorate.


Luxury Vinyl Tile with Character
Start a conversation with a friendly designer, and find the flooring you need for the perfect home. We ask the important questions about your home and the people you live with. When a client has an active family with kids and pets, we understand they need resilient flooring that looks great for years. We put the client in control with our 5-Star Selection system. Finding a product with the right price protection guarantees and warranties is easier when you shop at our store.
Finish a basement and renovate a kitchen with floors that are capable of enduring standing water. Tell us more about the wood flooring you have in other rooms, and let us identify luxury vinyl plank flooring that matches the floors in other rooms.
While solid hardwood is a great choice for your living room, luxury vinyl performs better in areas with a greater chance of spills and floods. The character of wood and the endurance of vinyl can give your bathroom a look that others are sure to envy.


Getting the Job Done Right
Our contractors have a plan for luxury vinyl tile installation that won't disrupt your life or your business. When you purchase new floors, you need an assurance that you are getting as much value for your investment as possible. You deserve flooring that makes every room more enjoyable.



Contact us today for transformative luxury vinyl flooring that gives any room an authentic look. We proudly serve customers in Stroudsburg, The Poconos, Slate Belt, Nazareth, and Northampton County, Pennsylvania, as well as the surrounding communities.