Hardwood Flooring in Stroudsburg, PA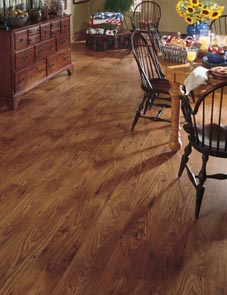 Commit to a truly unique home interior when you decorate with the broad array of flooring products available at Schnaitman's Flooring America. When you decide to replace the aging floors in your den or dining room, you need a design professional that is dedicated to your success. Our showroom is the source for transformative design and durable hardwood flooring in Stroudsburg, PA.
Hardwood floors come in a variety of stains and grains, so you are sure to find a species that matches the look of your design plan. There are several other factors to consider before investing in this type of floor covering, so start your design journey with a visit to our showroom.
Take advantage of the support we provide at every step of your decorating experience. From the moment you walk through our doors, to the completion of your project, you can be sure to have every question answered. Clients have found that luxury vinyl flooring can match the look and feel of wood in places like a kitchen or bathroom. We also specialize in kitchen and bath design.
Understanding the Differences in Hardwood
Different species of wood expand and contract at varying rates, so it just makes sense to choose our team for hardwood flooring installation. We give you the information you need to make an informed decision about the look of your home. Our residential and commercial clients appreciate the 5-Star Selection system, which allows them to identify a hardwood that fits their needs. Our selection of wood floors includes:
Beech
Cherry
Hickory
Maple
Pecan
Walnut
Exotic
Increased Design Flexibility
We want you to understand the best locations for every type of flooring you purchase. Both solid hardwood flooring and engineered hardwood offer different advantages. Solid hardwood can be resurfaced multiple times and re-stained to reflect the change in décor. Going with engineered hardwood can allow you to purchase more of the flooring you want in other rooms.
Learn more about your options when you visit our showroom and speak with a designer. Our design experts will use their flooring knowledge to ensure that you find the hardwood surface that ideally fits the décor of your property.

Contact us when you are looking for hardwood flooring for your home. We proudly serve Franklin Square, NY, and the surrounding areas.