Hardwood Flooring in Stroudsburg, PA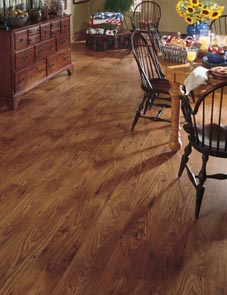 When you seek hardwood flooring, our flooring showroom is your source. We carry a beautiful selection of hardwood floors in a variety of species, finishes, and glosses, so you find exactly what you're looking for. Whether you are remodeling a small room in your home or seeking flooring for an entire residence, we have a wood floor to match any décor and theme. Visit our flooring center to find out more about the stunning collections we offer that are sure to suit any aesthetic preference and budget.
Selecting your favorite floor is easier when you shop with us. We have flooring products that accommodate the distinct personality of your home. So whether you are looking to replace old flooring or are looking for a total interior makeover, our selection of solid, engineered hardwood, and reclaimed wood flooring will improve the strength, beauty, and value of your home.
Hardwood Floors Bring Variety and Functionality
Hardwood floors make a lasting impression. This flooring option conveys a sense of sophistication and longevity. In addition, it is an investment that adds an elegance that lasts for many years. Generation after generation can enjoy its stylishness and strength.
Our selections of hardwood are available in many species and colors, and each may be chosen to create a distinct atmosphere in virtually any room. From rich chocolate and caramel tones to neutral and light shades, there is a warm or cool color to tie together any scheme you choose. Customize the look of your space by choosing from different wood variations and glosses. Our hardwoods never go unnoticed and instantly add value to your home.
Bring out the unique beauty and personality of your home. Our flooring showroom offers both numerous options for wood floors in one convenient location, including the newest hot product, reclaimed wood. Choose solid hardwood floors when you want the ultimate luxury. Solid wood is meant to last a long time and can be refinished to restore its showroom luster. Engineered hardwood floors work well in areas with high moisture such as bathrooms, kitchens, and basements. They are composed of multiple layers, including resin and natural wood, to produce durable flooring that is both beautiful and functional.
Solid Hardwood Flooring for Timeless Elegance
When it comes to strength and visual appeal, solid hardwood flooring has few equals. As its name implies, this flooring is cut from a single tree. Its rigid construction allows for everyday foot traffic, and maintenance is only required once every few years. Solid wood is available in a wide selection of species and finishes. From the telltale grain patterns to the distinct sound and feel underfoot, solid hardwood adds an air or sophistication to any room.
Engineered Hardwood Flooring Adds Versatility
Establishing a refreshing atmosphere doesn't have to break the budget. We are proud to offer engineered hardwood flooring to all of our customers. Crafted from layers of wood, resin, and a top layer of the species of your choice, these floors are specifically designed to withstand the rigors of moist environments. As such, this flooring option is a perfect candidate for basements and high-traffic areas.
Hardwood Flooring Installation with Options
Do you want to achieve a formal look? Opt for smooth, exotic hardwood flooring in a deep, dark color that instantly adds refinement to your rooms. Looking for something rugged that reflects the natural wood found in the outdoors, look at our selection of reclaimed hardwood? Our selection includes wood with "chatter marks" that gives it a distinctive character. The possibilities are endless when you count on us for all your hardwood flooring installation needs. We can coordinate quick and thorough installation services so you are able to enjoy your new investment according to your schedule. From the initial measurement to final installation, our team provides accurate service so you may have a beautiful hardwood floor for years to come.
You deserve to be totally satisfied with your investment. For this reason, eligible products are backed by our Ultimate Confidence Guarantee. This industry-leading series of warranties ensures you get the most out of your purchase. For example, if you find a fault in our workmanship after our installation, then we will return to correct any errors at no additional cost to you.
At our full-service flooring showroom, we believe in providing excellent customer care so you make the best decision for your taste and way of life. Our well-trained associates offer you everything from design advice to knowledge about each of our wood flooring products. In addition, we offer professional installation throughout the surrounding area to ensure that your new flooring investment is properly handled. Want to know more about the best selection of hardwood floors in the community? Simply fill out the form to the right, call us at our location, or stop in and see us and let us show you our vast selection!

Contact us today to learn how hardwood flooring can improve the strength and value of your home. Ask about up to 60 months of flexible financing. We proudly serve the communities of Stroudsburg, as well as The Poconos, Slate Belt, Northampton County, Nazareth, and Easton, PA.