See more project photos:
French Country Kitchen Makeover | Log Cabin Retreat: A Labor of Love | Outdated to Updated



Imagine arriving home from vacation, refreshed and ready to take on all that life brings, only to find 80% of your home destroyed by water damage from a frozen pipe that had burst during your absence. Where would you start if you had to replace your entire kitchen and all of your flooring?

Fortunately, Andre and Mary had a clear vision of what they wished their home could be. After all, they had recently completed a round of minor DIY updates. They had already done some dreaming; and already ruled out some of their high-end, designer-styled fantasies… until now.

The pair met with insurance reps, talked with their mortgage company, consulted with general contractors, leaned on family and friends for support, and shopped the usual assortment of home improvement stores. Then after participating in a run club event in downtown Stroudsburg, they decided to enter Schnaitman's Flooring America and Complete Kitchen & Bath Design Center.

"We had run past their store so many times and, finally, we decided to take a look inside. We really wanted to upgrade our home," said Andre. "Others said we could never afford what we were hoping to accomplish. But John and June were different. They stood out from the very start. Their store had so many beautiful choices—not just flooring, but kitchens and baths, too.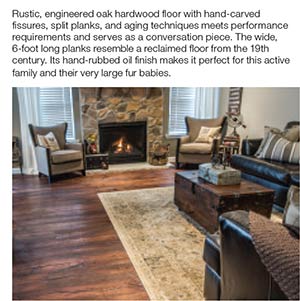 The project started as a kitchen redesign with a reconfigured island that would allow generous space for seating, entertaining and food prep. New flooring would have to hold up to the rigors of rough housing with a large black lab and a large lab mix. Overall, the space should convey an industrial, retro look.

"John and June were warm, helpful and completely re-assuring. They offered recommendations, design support and project expertise that really helped to bring alive our vision." said Andre. "Their level of expertise is truly impressive. Facing so many obstacles along the way, their professionalism was very comforting to us."

The couple was so fond of the barn wood floor recommended for the kitchen that they ended up using it throughout their home.

"This floor was on our long-term wish list," said Andre. "It has turned out to be our biggest delight. Friends and even the many professionals we have had over during this process, they have all commented on how amazing and uncommon it is."

Mary's keen eye for design, Andre's willingness to perform much of the work, and the choice of the perfect project partner in the Schnaitman's has given this couple a total home makeover that is a labor of love, hard work and good taste.

Schnaitman's Flooring America was voted the Pocono's Best Flooring Store. The two-story showroom displays carpet, hardwood, laminate, custom tile, area rugs, luxury vinyl tile and more.
Also check out our customer reviews and project visualization tools.