Ceramic Tile in Stroudsburg, PA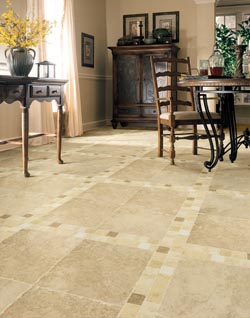 Renovate your home by upgrading your floors to the smooth feel and sleek look of ceramic. Our showroom offers one of the biggest selections of ceramic tile in the local area. In addition to numerous other types of flooring products, we sell ceramic tile flooring from trusted manufacturers at discounted prices. For a great deal on ceramic floor tiles that add value to your property, come explore our showroom or browse our inventory online. Our staff members are always standing by to answer any questions you may have or offer recommendation based on your design needs and price range.
Tough enough to handle all the messes and wear-and-tear of everyday life, ceramic is a perfect choice for anyone who needs strong flooring. A tile floor made of ceramic is specially constructed and installed to resist moisture damage, as well as dent, scratches, and scrapes. Install ceramic tiles in the wet areas around your home, such as your bathrooms, kitchen, and laundry room to ensure water never ruins your flooring. Since it is extremely durable and lasts a long time, it also does well in high traffic areas, like your living room and entryways.
In addition, ceramic is very easy to clean and care for. You can keep it spotless by sweeping or mopping it regularly. If you notice any stains, a diluted cleaner and some elbow grease are all you need to get rid of it. Just wipe away and mess and go on with your day. Should one or more of your ceramic floor tiles ever become damage, you can simply remove the affected tiles and install new ones—there is no need to lay down an entire new floor. With proper maintenance, it will look brand new even years after installation. In fact, if you ever experience an installation-related problem during the lifetime of your floor, we'll fix it for free.
Make Your Home Stand Out with Ceramic Tile Flooring
Add character, beauty, and value to your living space by choosing ceramic tile flooring for your flooring needs. These floors come in a multitude of design options, making it easy to create a one-of-a-kind look in your home. There is a diverse and vibrant array of colors, patterns, and textures available in our showroom. Browse the versatile collection in our ceramic tile shop and speak with our staff members for help matching our many tile products to your home's interior décor.
No matter what kind of aesthetic you prefer, we've got a beautiful tile product for you. From neutral and traditional to bold and contemporary, our store carries it all. With so many stunning products to choose from, you can't go wrong by shopping with us. Pay us a visit to discover the enduring, natural beauty of ceramic and view all the gorgeous flooring options available to you. We have ceramic tile floor designs to suit any home's look, so let our staff members help you find the ideal product to transform your living space.
Raise your property value while bring a fresh look into your home by choosing ceramic. Since ceramic is one of the most popular flooring options in the nation, it is highly desired by homebuyers. When you renovate your home and add ceramic flooring, you make it significantly more appealing. Whether you are thinking about putting your house up for sale or you simply want to invest in your home's long-term value, laying ceramic floor tile is great choice.
Design Possibilities for Tile Floor Made from Ceramic
Take advantage of the wide array of ceramic products available to add visual interest to your home. If you want an eye-catching aesthetic, our design experts suggest mixing up different tile option in your home for a timeless and elegant look. For example, you can try creating a boarding around a classic checkerboard tile layout to add a distinctive twist. Another popular design choice is to replicate the distinct appearance of city subways. This look is created by laying the tiles in diagonal lines, making sure the edges of the tile are equal in width.
The patterns you choose play an important role in how your room appears. To make your room look larger, use bigger pieces of tile. If you have a small room, we suggest using small tiles to match. Ceramic is also for more than your floor—it also looks great on your walls. A ceramic backsplash is a great way to enhance your bathroom or kitchen's appearance. Check out the display in our store for ceramic tile wall ideas. Talk to our showroom staff for more information on possible design and explore our store for inspiration.
Affordable Ceramic Tile Installation by Our Store's Experts
Don't risk cracked tile or a shoddy installation job. Get your ceramic tile installation done by the experts at our store. We offer affordable services by our company's own certified professionals. Our installers work efficiently to ensure you can enjoy your new flooring as soon as possible. All of our installation work is backed by our Ultimate Confidence Guarantee—if you ever have any issues with your new floor, we will replace it at no cost to you.

Contact our floor store to learn more about our ceramic flooring products, installation services, up to 60 months of flexible financing, and Ultimate Confidence Guarantee. We are proud to serve Stroudsburg, the Poconos, Slate Belt, and Northampton County, Pennsylvania